Bethesda just unleashed all their juicy plans for next couple of years, and if you didn't fancy staying up til 3AM, here's the recap!
---
The Pre-Shows
There were 2 pre-shows before the main showcase, the first being a homage to the fans hosted by Matt Grandstaff & Gary Steinman. Showing their admiration, Bethesda showcased a mash-up of fan-made content of Doom, Fallout 4 and Skyrim, with trivia quizzes sprinkled in between each tribute. The second pre-show was hosted by Morgan Webb & Adam Sessler and was pretty much a summary of what we already know Bethesda are going to be releasing, such as Fallout 4 DLC: Far Harbour and Elder Scrolls: Legends.
---
The Main Event
Quake: Champions
Yes, Bethesda kicked off with the announcement of a new instalment for the Quake series. Tim Willits was the one to bring this glorious news and boasted there will be a diverse range of characters, each with their own unique techniques and abilities. It is supposedly designed for all types of players, new and old, experienced and beginners and will be running at an impressive 120hz with unlocked framerates! Bethesda will treat us to more info on Quake Champions at QuakeCon in August (4th-7th) this year. Man, what an opener!
---
Elder Scrolls: Legends
Next up we have more information on the strategy card game, Elder Scrolls: Legends. We learn more about the story through the mini cinematic video, as seen above. We were also told that the game will be available on Android, iOS, PC & Mac!
Coming soon for your phones and tablets! Enjoy #TESLegends on Android, iOS, PC, & Mac SOON! #BE3 pic.twitter.com/BlRTXdqRk0

— Bethesda Softworks (@bethesda) June 13, 2016
---
Fallout 4/Fallout Shelter/Skyrim
Now there is a lot to take in from the video above, not only did we get Fallout 4 news, but we also got Fallout Shelter and Skyrim Special Edition details too! Let's begin with the 3 Fallout 4 add-ons:
Yes we're getting not 1 but 3 new add-ons for Fallout 4, the first one being released next Tuesday! Contraptions Workshop offers elevators, armour racks, weapon racks, track kits, sorting machines, conveyor belts and more to the roster. Contraptions will be released 21st June 2016 and will be priced at £3.99.
Vault-Tec Workshop, oh my, you can build your own Vault and experiment on Dwellers to learn what makes an ideal citizen! Yes, you read that right you will be able to build your very own Vault with pre-war industrial kits complete with retro-nostalgic furniture, lighting, and art and you can even customise your inhabitants looks with new barbershops and cosmetic surgery stations. The Vault-Tec Workshop will be available in July 2016 and will be priced at £3.99.
Last but not least, we have Nuka-World, a vast amusement park that is now a lawless city of Raiders. Nuka-World will feature new quests, Raiders, weapons, creatures and much much more. This will be released in August 2016 and will be priced at £19.99.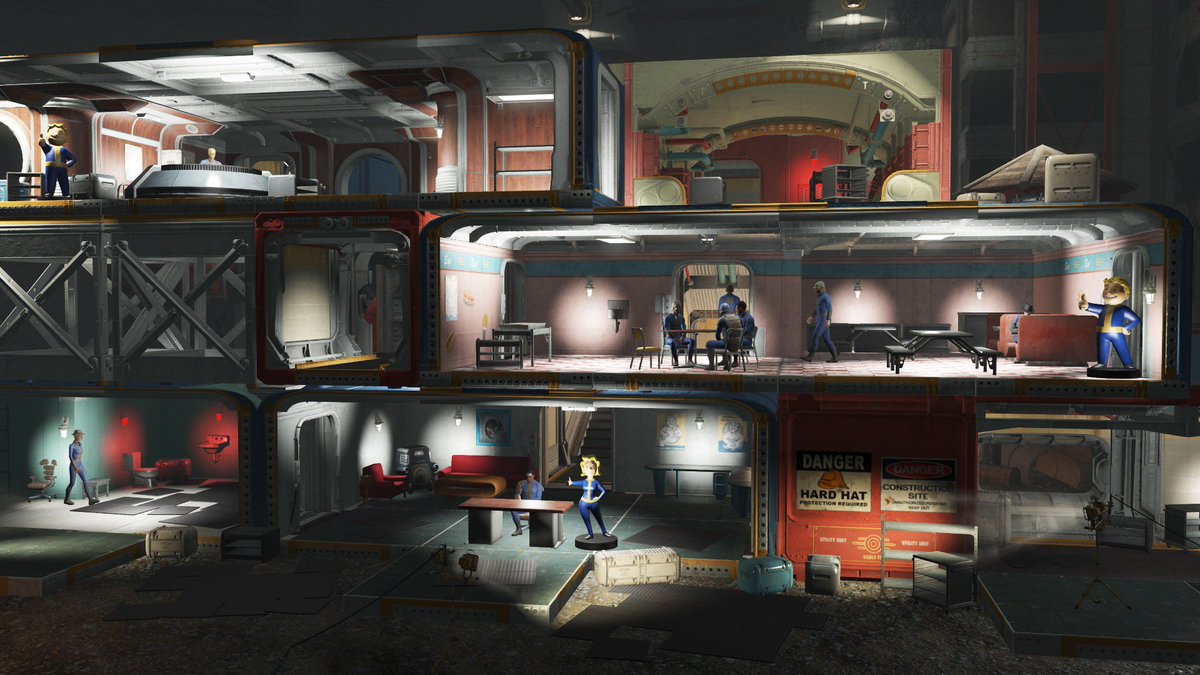 Next in line was a showcase of what's to come for the July 2016 Fallout Shelter update. Not only will we be able to send Dwellers on quests, explore new locations, face new enemies, be introduced to a new combat system, and meet new characters; we were greeted with the news that Fallout Shelter will also be coming to PC!
And finally, in the last part of this segment, we get a sneak peak at the Skyrim Special Edition which will be out on 28th October 2016. The video demonstrates the differences between the past and current gen consoles boasting volumetric god rays, dynamic depth of field, screen-space reflections, new snow shaders, and new water shaders. Also, full PC mods will be coming to Xbox One and Playstation 4. Furthermore, if you already own Skyrim and all the add-ons or the Legendary Edition, you will receive a free upgrade to the special edition. Could we love Bethesda any more?
If you own #Skyrim and all its add-ons or own Legendary Edition on Steam, you'll get a free upgrade to Skyrim Special Edition on Oct 28 #BE3

— BethesdaGameStudios (@BethesdaStudios) June 13, 2016
---
Doom
Just when you thought we couldn't get any more treats, we were showered with loads of Doom content. Snapmap will be getting free* updates that include Hell visual themes, new props, objects, weapons and items! We will also be getting 2 new multiplayer modes, titled Exodus and Sector, again for free*! And we will be getting new DLC which will include three new multiplayer maps, a new demon, new gun, equipment item, new armour sets, taunts, and much more. To sweeten the deal, for gamers who haven't yet tried Doom, you will be able to download the first level for free* this week on Xbox One, Playstation 4 and Steam!
*(they couldn't stress enough that it's free).
---
Elder Scrolls Online
Elder Scrolls Online was only a small segment, but we were treat to 3 little tidbits of news. ESO will be expanding to Japan on 23rd June 2016, more information is included in the tweet below:
Visit https://t.co/y2RtjFBxUv to learn more about the Japanese version of #ESO, coming June 23rd! #BE3 pic.twitter.com/qeWYx8R8wl

— Bethesda Softworks (@bethesda) June 13, 2016
We got another trailer for the Dark Brotherhood DLC, which has just launched on PC and will be making its way onto Xbox One and Playstation 4 on 14th June 2016.
And a new update, titled One Tamriel, will be available this Autumn. The update will remove all content barriers and allow players to experience everything Tamriel has to offer regardless of level.
Breaking news from #BE3: #OneTamriel is coming to ESO in Fall 2016! pic.twitter.com/nVt776LAGX

— Elder Scrolls Online (@TESOnline) June 13, 2016
---
Dishonoured 2
Check out a glimpse of Dishonored 2. #E32016 https://t.co/wRBMvu6X7U pic.twitter.com/gDm1Bv9GaS

— E3 (@E3) June 13, 2016
We actually got to have a little peak at the gameplay of Dishonoured 2 and I have to say the footage was beautiful! Checkout the video above just to see what I mean; and that was only a playthrough of Emily! You can choose to play as either Emily or the royal protector, Corvo. There are many pathways and possibilities to complete missions bringing copious amounts of exploring to the table.
Celebrate Emily and Corvo w/ #Dishonored2's Collector's Edition feat.Corvo's mask replica and Emily's ring pic.twitter.com/yFC0njzNgG

— Bethesda Softworks (@bethesda) June 13, 2016
To mark the occasion, a beautiful collectors edition will be released, and for a limited time any pre-orders of Dishonoured 2 will be bundled up with Dishonoured: Definitive Edition for free!
---
Prey
Raphael Colantonio took the stage to present us Prey, a first-person sci-fi action with an added psychological twist. This will be released next year on Xbox One, Playstation 4 and PC; I will let the video above do the talking.
---
Bethesda VR
And finally I thought I would finish on the nice little surprise, Bethesda VR.
"Weren't expecting that, were you?" and just like that a @DCDeacon #E3Memory is born. 😀 #E32016 pic.twitter.com/55BIuIK5Lo

— E3 (@E3) June 13, 2016
This years BE3 Plus event saw Bethesda demo 2 virtual reality experiences; Doom and Fallout 4. The Doom VR experience was a tour of Hell which exhibited idTech 6's impressive next-gen graphics and rendering, while Fallout 4 allowed attendees to explore the world using the game's Pip-Boy and interact with Dogmeat. Fallout 4 for VR is planned to be released in 2017 for the HTC Vive. But worry not, their blog post simply states that they "plan to release for VR headsets in the next 12 months" which could potentially mean releases for other VR sets.
---
And there we have it, a full summary of Bethesda's E3 Showcase and boy weren't we spoilt! What announcement are you most excited about? Can you believe how generous Bethesda have been?? Is there something you wished Bethesda showcased? Let us know in the comments below, or hit us up on Twitter!